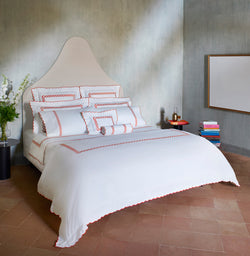 Collections

Treccia Collection
Treccia Collection
Inspired by the spiraling columns of Florentine architecture, Treccia's classic braid motif speaks to an everlasting European splendor. A master artisan embroiders the pattern in a vividly contrasting color over our Angel Luxe Egyptian cotton percale, employing matchless artistry and Italian craftsmanship passed down through generations. A beautifully scalloped edge in the matching stitch color lends Treccia both refinement and warmth. Every step of the process is meticulously handled by a team of artisans in Italy who weave the Angel Luxe fibers at the finest mills, embroider the braid motif, and hand-cut the scalloped design on these luxurious linens.
Treccia Duvet Cover
KING
106x92 in / 269x234 cm
FULL/QUEEN
88x92 in / 224x234 cm
TWIN
68x86 in / 173x218 cm
Treccia Sham
QUEEN
21x30 in / 53x76 cm
STANDARD
21x26 in / 53x66 cm
BOUDOIR
12x16 in / 30x41 cm
NECKROLL
5x16 in / 13x41 cm
Treccia Pillowcases
KING (PAIR)
22x41 in / 56x104 cm
QUEEN (PAIR)
22x35 in / 56x89 cm
STANDARD (PAIR)
22x31 in / 56x79 cm
Treccia Flat Sheet
KING
114x114 in / 290x290 cm
FULL/QUEEN
96x114 in / 244x290 cm
TWIN
74x114 in / 188x290 cm
Angel Luxe Fitted Sheet
CALIFORNIA KING
72x84x17 in / 183x213x43 cm
KING
78x80x17 in / 198x203x43 cm
QUEEN
60x80x17 in / 152x203x43 cm
FULL
54x75x17 in / 137x191x43 cm
TWIN XL
39x80x17 in / 99x203x43 cm
TWIN
39x75x17 in / 99x191x43 cm
Angel Luxe Flat Bottom Sheet
KING/CALIFORNIA KING
114x114 in / 290x290 cm
QUEEN
96x114 in / 244x290 cm
FULL
90x114 in / 229x290 cm
TWIN/TWIN XL
74x114 in / 188x290 cm
Fiber
100% Egyptian Cotton
Finishing
Percale with double-faced embroidery
flange_measurements
Duvet Cover / 4 inches
Shams / 3 inches
Boudoir / 2 inches
Flat Sheet / 4 inches
Pillowcase cuffs / 5 inches
Hem
Scalloped hem with mezzo punto hemstitch
packaging
Every Pratesi product is distinctly wrapped in our Pratesi orange gift box made from FSC responsibly sourced and recyclable materials.
For inquiries or assistance placing an order, our Customer Care team is available to assist you Monday through Friday, 9 AM to 5 PM ET.
Email
customercare@pratesi.com